Our engineers have many years of caravanning experience.
Motor Movers
Manoeuvre your caravan easily onto your drive, into storage or onto your pitch without difficult reversing and without physical exertion of trying to push your caravan on gravel, grass and slopes.
Caravan movers take all the hard work out of getting your caravan into position, wherever you're staying, meaning there's no need to become a reversing superstar. Instead maneuvering your caravan onto your driveway or pitch is a breeze.
The caravan mover  is an electronic, motorized device that's fitted to the chassis, and it allows you to control the movement of the caravan by remote control. The motor powers up and connects to rollers attached to your wheels, which enables the caravan to move in the direction you want. Movers can be very precise, all at the touch of a button.
Please ask for further information, do not hesitate to ring us 01243 576 312.
Solar Panels
Mobile or static, solar power from Complete Caravan services.
Solar panels for caravans and motor homes are an ideal investment owners looking to run small appliances and lighting. They can be used ensure that the batteries are always topped up and are safe from deep discharge when the caravan is left alone for long periods. Larger systems with more power can be used to provide "bulk" power to help you run your appliances when you are staying on board. These can be fixed, normally on top of the Caravan or a mobile device easily connect and when needed.
Motorhome Habitation Service
A Habitation Service from Complete Caravan Servicing ensures that your Motorhome is safe to live in. Whether you are a weekend away type owner, or seasoned traveller around Europe, an annual Habitation Service is vital to ensure continued safety of components and to aid the early detection of any issues, such as damp.
An annual Motorhome Habitation Service, will thoroughly test, check, the following; although not limited too;
Gas System including; a gas tightness, appliance operation & flue check, regulator health, gas cylinder security, hoses dates and gas dispersal vents
Electric System including; RCD, Trips tests, earths & earth bonding, 240/12 volt Sockets, Interior lighting, 12volt Battery health, Road lights.
Water Systemincluding; pump & pressure switches, taps, filter & housing, water tanks, lagging, drain down valves, toilet check
Fire & Safety including; smoke and carbon monoxide alarm testing, fire extinguisher date, fire blanket housing, operation of doors and windows, and testing of flame failure devices.
Bodywork including; roof, grab handles, floor, number plate, furniture, blinds & fly screens
Damp Test including full readings, and report
Damp Checks and Damp Prevention
Allow Complete Caravan Services to protect your caravan or motorhome from the rain. Our damp proofing services keep your caravan and motorhome protected from the elements, preventing leaks and water damage.
If your caravan or motorhome has been damaged by water intake, we'll repair the damage and reseal the breach. From fittings to furnishings and even structural damage, we can get it looking like new again.
Gas Maintenance and Servicing
As you maybe aware caravans and motorhomes tendered for hire or reward, legally should be tested and certified annually for Gas Safety. We offer peace of mind options for privately owned Caravans and Motorhomes.
Pre-Purchase Inspections (PPI's)
For added piece of mind for consumers when purchasing a used caravan or motorhome.
The aim of our Pre-Purchase Inspections is to provide you with a buyer with a detailed report on the visual and operational condition of the caravan or motorhome.
Complete caravans inspection will predominately cover just the safety critical elements of a caravan or motorhome, it will also cover other important areas such as damp testing or the operation of a caravan-mover which is often a deciding factor when purchasing.
Pour costs depend on the size of the Caravan or Motor home and how far we are traveling so please do not hesitate to contact us.
Electrical Work
Complete Caravan Services offer a electrical test and inspection level as well as standard maintenance options.
Earth bond
RCD test
Continuity test
Full inspection of the entire electrical installation
Costs vary on the size of you Caravan or Motor Home so please do not hesitate to contact us.
We also offer DAB Digital Radio Solutions to your vehicle.
Caravan and Motor Home Washing
Our Jet washing system lifts the dirt and grease before its simply wiped away meaning no scratches, no smears and a truly clean finish with no need for high pressure blasting, scrubbing with a sponge or gallons of water. This not only ensures your paintwork stays great or the seals are not damaged but there is no mess meaning we can clean anywhere, great for caravans located on sites or in storage yards.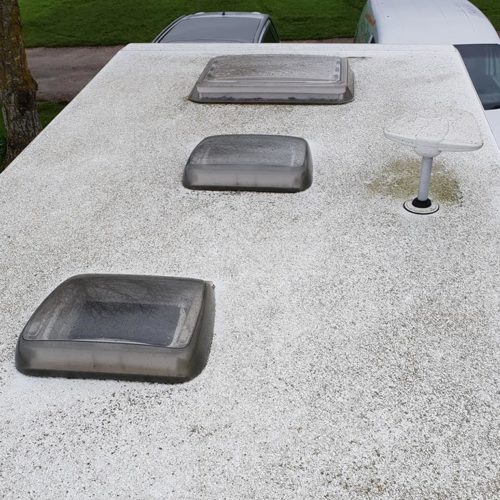 Before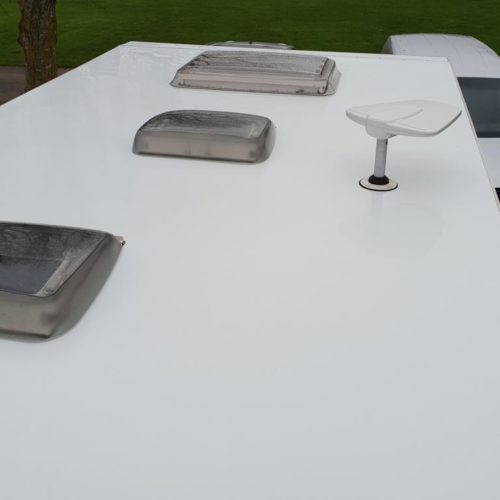 After